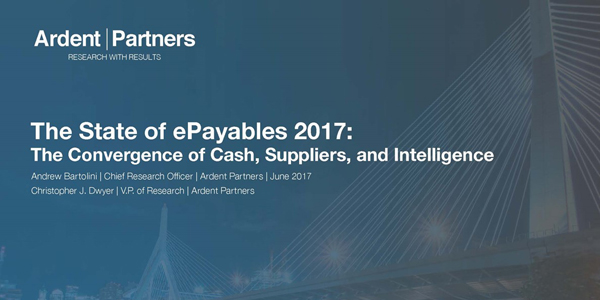 With today's article, we are excited to announce the publication of Ardent Partners' latest AP research report, "The State of ePayables 2017: The Convergence of Cash, Suppliers, and Intelligence", which is available for download here. Over the next few weeks, this site will feature a handful of articles highlighting the key discussion points from the report.
The modern business finds itself at the center of a wave of innovation and global activity. From new technologies and platforms to the progressive strategies that must be leveraged to advance and thrive in today's marketplace, the potential value of the accounts payable (AP) unit has never been more front-and-center than it is today. With a propensity for convergence with key stakeholders (procurement and treasury) and core technologies, the contemporary AP function is positioned to make a greater impact. In fact, those AP units that are committed to a comprehensive transformation out of its traditional roots and into burgeoning capabilities and strategic areas, such as supplier management, cash management, and data management, will be the ones at the very center of enterprise success.
Ardent Partners is excited to announce the publication of a new report, "The State of ePayables 2017: The Convergence of Cash, Suppliers, and Intelligence", which highlights how leading AP teams have fixed their gaze on the goal of driving strategic value to the wider enterprise through becoming a "hub" of financial and operational intelligence as well as improving the bottom line through an emphasis on cost and process efficiencies. The report will also discuss the technology and process improvements that help AP move from tactical to strategic, as well as provide key performance benchmarks and a series of specific recommendations for AP teams seeking improvement.
As the business world changes, developing new industries, new ideologies, and new ways of working, AP must evolve or risk becoming irrelevant. AP functions that understand its potential can unlock critical opportunities in the months ahead, choosing to avoid the path tread by so many AP units of the past.. Only through a keen focus on the future, as well as clear-eyed examination of future needs, will AP retain and even grow its value to the organization.
The new report, available here, highlights:
Industry performance and operational metrics that allow AP teams at enterprises of all sizes to benchmark their operations
The innovations that are paving a path for the "new face" of accounts payable
How AP performance is measured today
The top priorities for today's AP leaders, and how AP can serve as a "convergence point" for cash, supplier, and data management
The true value of AP intelligence to the greater organization
Recommended strategies and approaches for finance and accounts payable leaders and their departments who seek to improve their operations and results
Download the new report here, and learn why the modern AP function is well-positioned to generate true strategic value to today's businesses.
RELATED ARTICLES
AP's Road Ahead: Automation and Collaboration
AP Automation: How to Maximize the Value of Accounts Payable
The Ardent Partners ePayables Framework: An Overview
ePayables Technology Outlook for 2017 (Part 1)