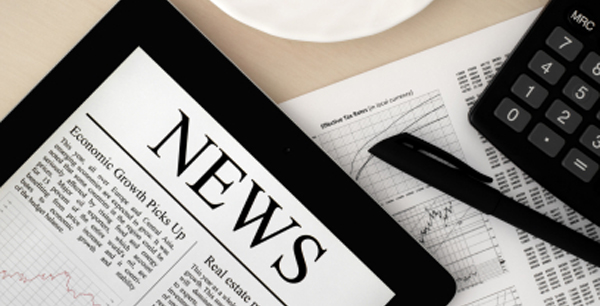 Our annual "State of ePayables" research survey is now open. Your responses will help us establish the Best-in-Class metrics that readers can use to benchmark the performance of their AP operations. If you have a few minutes, I encourage you to click here and take it. Thanks in advance!
CPO Rising regularly collects and publishes P2P news stories and general announcements on the people, companies, and events that will have the biggest impact in the P2P and AP markets in our recurring "P2P Tech Roundup" series.
This edition includes a few developments: Lexmark agreed to be acquired by two Chinese firms for $3.6 billion and Nvoicepay just released a global payments solution. Read on to find out more about these and all the other important news and announcements from around the AP and P2P world.
Lexmark Agrees to $3.6 Billion Buyout
Lexmark announced last week that it had agreed to be acquired by a consortium of companies led by Apex Technology and PAG Asia Capital for $40.50 per share in an all-cash transaction, which equals a purchase price of $3.6 billion. The purchase amount is a 30% premium of the closing stock price on October 21, 2015—the day before news of Lexmark exploring strategic alternatives became public. Lexmark's board of directors unanimously approved the transaction, which is not expected to affect the company's two business lines (Imaging Solutions & Services and Enterprise Software). The transaction is expected to close in the second half of 2016, and will result in Lexmark's stock no longer trading on the New York Stock Exchange.
Lexmark's purchasers represent some of the titans in the imaging technology market in Asia Pacific, which makes this acquisition a good move for the company. Being acquired like this opens up the Asian market to Lexmark and its subsidiary companies, which include Kofax and Readsoft on the enterprise software side, and creates more opportunities in the long run. Lexmark's revenue was only $969 million in 2015, so the sale price represents a healthy premium from that perspective as well. Overall, this looks like Lexmark will have more capital to reinvest in the business and be able to make decisions that can grow their business lines further.
Lexmark Releases Kofax TotalAgility Platform
In other Lexmark news, the company announced earlier this month that it had rolled out a new version of Kofax TotalAgility. Version 7.3 of the TotalAgility platform also comes pre-integrated with the Customer Communication Manager ("CCM") platform. The new TotalAgility platform offers mobile, omni-channel capture, process automation, dynamic case management, and information integration.
The latest iteration of TotalAgility provides some useful capabilities for end-users looking for an integrated solution that can do internal process automation as well as external customer outreach. Kofax has a history of strength in these kinds of process automation solutions, and Lexmark has continued that tradition since it acquired the company in May 2015. Overall, the solution should retain its consistent strength in the market it serves now and into the future.
Basware Appoints Former Verian CEO as General Manager, North America
Basware announced recently that it had named Tehseen Dahya, the former CEO of Verian Technologies, to the position of general manager for North America. Dahya brings nearly 20 years of experience in the supply chain and purchasing industries to his new role, created following Basware's acquisition of Verian a few weeks ago.
APEX Analytix Partners with Basware
APEX Analytix last week announced a partnership with Basware that will integrate APEX's solutions with the Basware Commerce Network. The partnership means that APEX customers using its FirstStrike Supplier Portal for global and multilingual supplier registration functions, supplier-initiated invoice inquiry and configurable dynamic discounting solutions will be able to access the suppliers on Basware's network, which is one of the larger offerings worldwide. The partnership opens up the possibility to take advantage of the breadth of suppliers on Basware's network for APEX customers.
Basware's network model is predicated on connections to various supplier portals, so increasing the number of solutions that it connects to is a very sensible move. The partnership is also tremendously beneficial for APEX, which gains exposure because they are one of the partners involved in the Basware Commerce Network. APEX has some significant strength in terms of optimizing payments and protecting against overpayment, so opening its solution's capabilities up to the Basware network makes a lot of sense.
Nvoicepay Announces Global Payment Solution Focused on Cross-Border Supplier Payments
Nvoicepay last week announced the release of Nvoicepay AP Global, a payments solution that allows buyers to manage international and domestic payments inside the same workflow. AP Global is designed to cut down on the amount of time that AP teams spend managing cross-border payments, which can be significant given the complexity inherent in paying international suppliers. Nvoicepay's AP Global solution is integrated into its current payment solution, and allows buyers visibility into the cross-border payment workflow.
Cross-border payments are enormously complex across several dimensions, such as tax and compliance, regulations, and sheer lack of visibility into payment. Nvoicepay has prided itself on the visibility it creates into the payment process, as well as its ease-of-use, and extending this into the international payments market could be a strategic differentiator for the company. Multinational banks have historically dominated the cross-border payments market, largely because of the complexity, which creates an opportunity for a company like Nvoicepay to disrupt the current marketplace.
RELATED ARTICLES
Survey: ePayables 2016 – Accounts Payable is Keeping its "Eyes on the Prize"
P2P News Roundup: Basware Acquires Verian Technologies; SAP Ariba Announces Solutions with Prime Revenue, American Express
P2P News Roundup: SAP Acquires Roambi; BuyerQuest, Taulia Announce Partnership
P2P News Roundup: SAP Inks Payments Deal with First Data; Bottomline Announced Paymode-X Growth