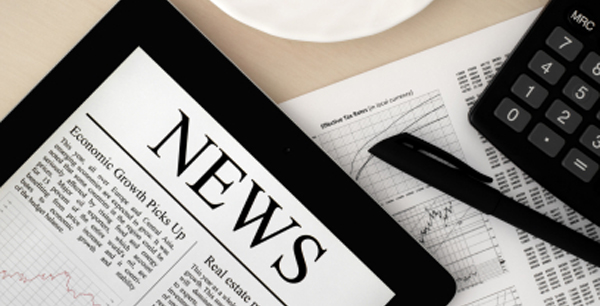 One of the more important jobs of the procure-to-pay ("P2P") and accounts payable ("AP") professional is keeping up with what is happening in the industry at large. This is critical for a few reasons, including skills development and the hunt for new technologies, but is sometimes difficult to do. That is why, every two weeks, the team at CPO Rising collects news stories and announcements on the people, companies, and events that can have the biggest impact on the AP/P2P team; this cuts down on the amount of time busy professionals need to spend keeping up to date and makes it easier to get back to the task at hand—driving strategic value for the organization.
The past few weeks in P2P news include several developments: SAP inking a deal with First Data to extend AribaPay into new geographies, Basware continuing to develop and expand its business network, and Bottomline Technologies reporting record growth of its Paymode-X network. Read on to find out more about these and all the other important news items from around the AP and P2P world.
SAP and First Data Team Up to Transform B2B Payments
In late January, SAP and First Data announced a joint venture to roll AribaPay out to Europe and Latin America. The joint solution will leverage the Ariba Network's cloud-based business network and First Data's payments infrastructure to extend the capabilities of AribaPay into new, international markets. According to the joint release, the solution will include Ariba's legacy solution benefits—electronic invoice processing, track and trace solutions, etc.—as well as the payment architecture that First Data has leveraged to create a multi-billion dollar business serving financial institutions, small businesses, and government customers.
The AribaPay expansion into other markets is a logical next step for SAP Ariba as SAP is a global company. Discover, Ariba's North American partner for AribaPay, does not have a strong international presence, so a new partner was needed if it was to going to sell AribaPay internationally. The partnership is also attractive for First Data, which takes Discover's place with AribaPay internationally. First Data has been pursuing partners for some time and, with SAP Ariba, it landed a big one early.
Basware Extends Network Capabilities to Improve Collaboration between Trading Partners and Boost E-Invoicing; Appoints Vesa Tykkyläinen as Senior Vice President, Network Business
Basware announced in mid-January the addition of vendor management services and a new business directory to the Basware Commerce Network. The business directory is designed to allow users to search and find trading partners, such as suppliers and customers, and add them to an eInvoicing "address book." The Vendor Manager solution allows larger organizations to provide self-service data management to its suppliers, thus allowing vendors to update their own profile information on the network.
These two new solutions could go a long way toward making the Basware Commerce Network an attractive choice for more organizations. Supplier data management is a crucial capability for a network solution, and allowing suppliers to manage their data without input from the AP/P2P team can cut down on a significant amount of data-entry work on the AP side. The business directory's search function, and also an upload capability, could streamline adding suppliers to the network enormously, thus easing the transition to eInvoicing.
In other news, Basware in early January announced that it had appointed Vesa Tykkyläinen to the position of senior vice president, network business area. Tykkläinen has more than 25 years of experience as a telecom executive, and joins Basware from Nokia Networks where he was the vice president in charge of the liquid core business line. Tykkläinen will report directly to CEO Esa Tihilä.
Bottomline Technologies Reports Record Growth for Paymode-X Network
Payment solution provider Bottomline Technologies in late January reported accelerated adoption of its Paymode-X network. Paymode-X surpassed 330,000 network members last year, and the solution processed more than $182 billion in spend across all its members. Bottomline noted that highlights of the year included the launch of Paymode-X with Visa Payables, adding Fifth Third Bank and BNY Mellon as partners, and growing their relationships with Bank of America Merrill Lynch and Citizens Financial Group. This announcement comes on the heels of reporting 7% year-over-year growth in their second-quarter financial results. Watch for a more detailed analysis of Bottomline and Paymode-X in an upcoming article onPayables Place.
AvidXchange and Open Systems Form Strategic Partnership
ePayables provider AvidXchange recently announced that it inked a partnership deal with Open Systems, a provider of ERP solutions, to integrate Avid's payment solution with Open Systems' TRAVERSE ERP. The two companies announced they are working together to create a seamless experience for clients of both providers in order to allow them to create AP efficiencies in the two systems. Avid and Open Systems will work together on joint educational webinars and conferences to illuminate the benefit of using the solutions together.
One of the key stumbling blocks for an AP automation solution is integrating with the end-user's existing ERP system. Open Systems has a long history of providing ERP solutions, so it makes sense for AvidXchange to sign a partnership in order to extend the market for their payment automation solutions. This new partnership places Avid in front of a brand-new collection of customers, so from an overall market perspective this is a solid move for them.
Taulia Raises $46 Million Series E Round Led by Zouk Capital; Names John Varughese as CFO
Taulia announced in mid-January that it had raised $46 million in Series E financing, led by London-based Zouk Capital. This latest round, which the company said would be used for expansion, brings Taulia's funding total to more than $130 million. New investors entered the round, and all the company's current funders also participated. Taulia raised a total of $40 million in its Series D round in late 2014, which is the last time the company raised money. The company also announced that it had named John Varughese as its new chief financial officer. Varughese joins the company from Perella Weinberg Partners, where he was the founding partner of the technology advisory practice.
Lavante and Taulia Partner to Drive Value of Supplier Relationships to New Levels
Lavante and Taulia on Tuesday announced a new strategic partnership that combines Lavante's supplier information management solutions with Taulia's financial supply chain offerings. The blended solution is intended to optimize the value of supplier relationships and, according to the joint announcement, maximize participation in the buyer's supply chain financing program. The joint solution will also allow for supplier health-score carding and campaign management to help make decisions about trading partners.
Driving value from the supply chain is one of the most significant goals that many P2P teams have in the industry today. The complementary solution profile of Lavante and Taulia extends the capabilities of each solution and creates a partnership that can drive significant value for the customers of both companies. Lavante has a long history in supplier information management—a critical need for the modern P2P professional—and pairing that with Taulia's eInvoicing and supply chain financing functionality is a logical choice. Both solution providers are certain to benefit from this partnership.
RELATED ARTICLES
Accounts Payable Predictions for 2016: Greater Collaboration, More Automation
Six Strategies CPOs Can Use to Engage the CFO
B2B Payments 2015: How Can Emerging Technologies Fit into a Supplier Payment Strategy?